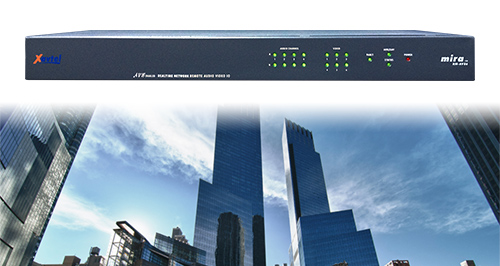 REALTIME NETWORK REMOTE AUDIO/ AUDIO 86 IO
The mira remote series are designed for the use with mira servers in audio/ video I/O expansions. Each of the expenders allow distance location installation which communicates with mira servers over AVB network in transferring audio/ video networking; along with the help of the software, "Xavtel Designer", devices controlling and configuration can be achieved with a click of mouse.
Remotes for mira platform are equipped with 6 I/O slots, which support up to 6 channel video resources with various video formats, such as HDMI, VGA, YPBPR, S-VIDEO, CVBS; and 24 channel audio resources with PoE power supply. The design of the remotes also comes with high flexibility in modifying local system as the exact I/O configuration is custom-made.
For Remote AV86, full-rack expander features 6 channel of video I/O cards with H.264 encoding/decoding and 8 channel of analog audio I/O cards with 48V phantom power. At the front panel, 2 LEDs are embedded for device status and power indications.