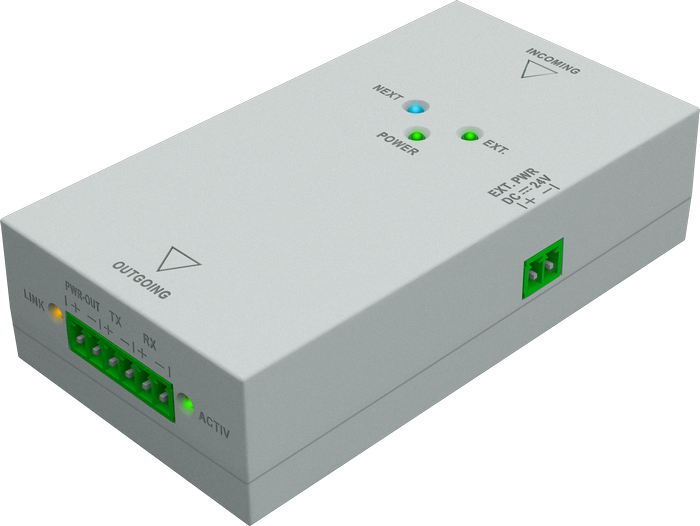 The DLR01 is a digital loop repeater with external power input, it can extend the wiring distances of peripherals such as paging consoles, noise sensing microphones etc. on OCTO Jr system and DCA660 digital amplififer.
The DLR01 is designed for highly secured demand with bi-directional communication. If the control signal of remotes in a redundant loop/daisy-chain wiring is not strong enough, the DLR01 can extend the distance of remotes 250m longer. In addition, the DLR01 has the 24VDC external power input, providing local power for the remotes.
---
►The selection of external power adapter on DLR01 varies with system:
OCTO Jr: provide local power for remotes via 24VDC power adapter.
DCA660: power adapter is not required, DLR01 is used for extending the communication distance between multiple DCA660 amplifiers only.
The DLR01 is not shipped with the power adapter, please order the power adapter if necessary. The selection of power adapter depends on the total power consumption of remote console(s) which requires to be powered by DLR01.
Power Adapter Models
| | |
| --- | --- |
| PTR-2405 | Power Supply/Wire/100~240V/DC 24V/0.5A |
| PTR-2415 | Power Supply/Wire/100~240V/DC 24V/1.5A |